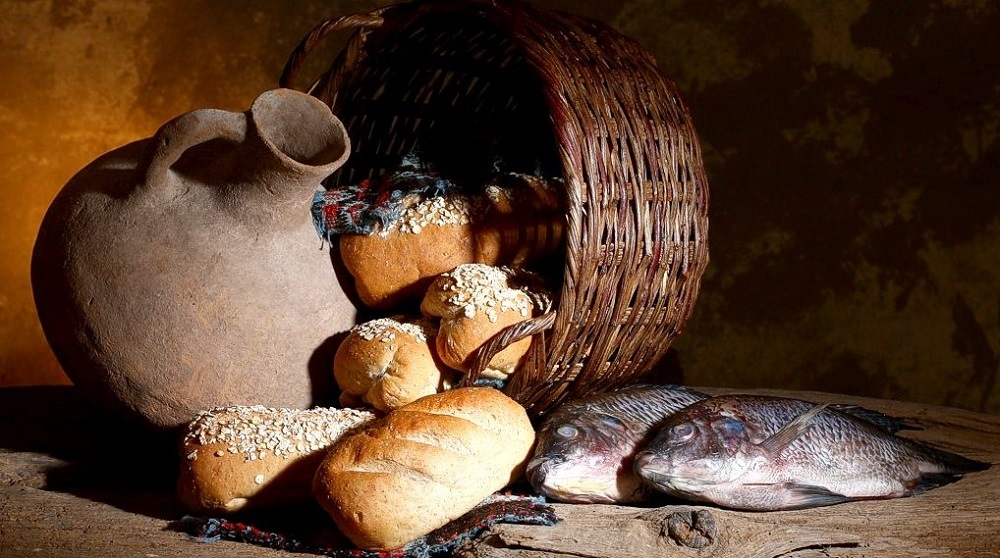 First reading Isaiah 25:6-10
The Lord will prepare a banquet for every nation
On this mountain,
the Lord of hosts will prepare for all peoples
a banquet of rich food, a banquet of fine wines,
of food rich and juicy, of fine strained wines.
On this mountain he will remove
the mourning veil covering all peoples,
and the shroud enwrapping all nations,
he will destroy Death for ever.
The Lord will wipe away
the tears from every cheek;
he will take away his people's shame
everywhere on earth,
for the Lord has said so.
That day, it will be said: See, this is our God
in whom we hoped for salvation;
the Lord is the one in whom we hoped.
We exult and we rejoice
that he has saved us;
for the hand of the Lord
rests on this mountain.
Responsorial Psalm 22(23)
In the Lord's own house shall I dwell for ever and ever.
The Lord is my shepherd;
  there is nothing I shall want.
Fresh and green are the pastures
  where he gives me repose.
Near restful waters he leads me,
  to revive my drooping spirit.
He guides me along the right path;
  he is true to his name.
If I should walk in the valley of darkness
  no evil would I fear.
You are there with your crook and your staff;
  with these you give me comfort.
You have prepared a banquet for me
  in the sight of my foes.
My head you have anointed with oil;
  my cup is overflowing.
Surely goodness and kindness shall follow me
  all the days of my life.
In the Lord's own house shall I dwell
  for ever and ever.
Gospel Matthew 15:29-37
The crowds praised the God of Israel
Jesus reached the shores of the Sea of Galilee, and he went up into the hills. He sat there, and large crowds came to him bringing the lame, the crippled, the blind, the dumb and many others; these they put down at his feet, and he cured them. The crowds were astonished to see the dumb speaking, the cripples whole again, the lame walking and the blind with their sight, and they praised the God of Israel.
  But Jesus called his disciples to him and said, 'I feel sorry for all these people; they have been with me for three days now and have nothing to eat. I do not want to send them off hungry, they might collapse on the way.' The disciples said to him, 'Where could we get enough bread in this deserted place to feed such a crowd?' Jesus said to them, 'How many loaves have you?' 'Seven' they said 'and a few small fish.' Then he instructed the crowd to sit down on the ground, and he took the seven loaves and the fish, and he gave thanks and broke them and handed them to the disciples, who gave them to the crowds. They all ate as much as they wanted, and they collected what was left of the scraps, seven baskets full.
______________________________________________________
2nd December 2020 Wednesday 1st Week of Advent
Reflection
Isaiah 25:6-10, Matthew 15:29-37
"Be compassionate as God is"
The Prophet Isaiah proclaims these words of hope today as we face many uncertainties in today's world that is struggling with the pandemic, "The Lord God will wipe away the tears from all faces". God, wipes away all tears because He is God of compassionate love who comforts us and suffers with us.
In the gospel, Jesus revealed the heart of God the Father. He was moved with compassion because He saw the hunger of the crowd, and He took action to feed them. These passages ae not for us to become sentimental, rather it challenges us, as Christians, to have the same compassionate love for others. Today, let us experience the compassionate love of God in our own disappointment and sadness. From this experience of being loved, we go out and show compassion to those around us. Let us stop turning our back on human suffering!
Question for reflection:
As I pray with the passages, what is the message that I have understood from Jesus today?

2 hb Disember 2020 Hari Rabu Minggu Adven ke -1
Renungan
Yesaya 25:6-10, Matius 15:29-37
"Berbelas kasih seperti Allah"
Nabi Yesaya mewartakan kata-kata pengharapan hari ini di saat kita berhadapan dengan banyak ketidakpastian di dunia hari ini yang sedang berjuang dengan pandemik. "Tuhan Allah akan menghapuskan air mata dari segala muka" sebab Dia adalah Allah yang penuh berbelas kasih yang menenangkan dan menderita bersama kita.
Dalam injil, Yesus menunjukkan hati Allah Bapa. Dia tergerak oleh belas kasihan kerana melihat orang ramai yang kelaparan, dan Dia bertindak memberi mereka makan. Petikan ini bukanlah untuk menjadikan kita bersikap sentimental, sebaliknya mencabar kita sebagai Kristian untuk memiliki belas kasih kepada sesama. Hari ini marilah kita mengalami belas kasihan Tuhan walaupun kita sedang kecewa dan bersedih. Melalui pengalaman dikasihi, kita keluar dan menunjukkan belas kasihan kepada orang-orang di sekitar kita. Marilah berhenti membelakangkan penderitaan manusia.
Soalan Renungan:
Ketika berdoa melalui petikan ini, apakah mesej yang saya terima dari Yesus hari ini?

2 Disember 2020, Orou Katalu Minggu' Adven Kasaa'
Jisaya 25:6-10, Matius 15:29-37
Pakaasi' no koson ri Aki Kapuuno' ondo' makaasi'
Nabi Jisaya nampabala' ra ragu kalansanan ra orou raiti' koson ritakau makauma' ra masuang ondo' kalo maaruan ra tana' ti ra orou raiti' ondo' gumula' ra pandemik, "Tuhan, i Aki Kapuuno' mampiir ra lomou intor ra ngaangai' bulos". I Aki Kapuuno', mampiir ra ngaangai' lomou sabap ra Io noyo i Aki Kapuuno' ondo' makaasi' am ondo' motogom makabansuk ritakau am ondo' maimbolo' makaya' ritakau.
Ralalom Injil, nampabala' i Jisus ra guang ri Aki Kapuuno', i Ama'. Makaasi' Io sabap' ra makito No ulun masuang ondo' mangaitilan, am masaga' Io mampaakan risilo. Pambasaan ragitio sala' ka mampatangi' ritakau, kaa' magangat ritakau, koson ra ulun-ulun Kristian, mokoondo' ra guang makaasi' ra mogondo' ra ulun bokon. Orou raiti', ibok mili' takau ra guang makaasi' ri Aki Kapuuno' ralalom ru sinduol am kangilukan takau galama'. Intor ra kailuan ragitio ondo' tagamin, ongoyo' takau am pakitonon guang makaasi' ra ulun giu' ra liput takau. Ibok langgai' takau manalikur ra ulun ondo' maimbolo'!
Pangkuatan ra paguangin:
1) Paat ra aku makiasi' maya' ra pambasaan no, atan kia bilin ondo' maratian kuno intor ri Jisus ra orou raiti'?

02-11-2020 Hari Tiga Minggu Advent Ka-1
Renungan
Isaiah 25:6-10; Matthew 15:29-37
"Bepenyinu baka Allah Taala."
Nabi Isaiah meri jako pengandal ngagai kitai ti benung agi napi penusah penyakit Covid tu.
"TUHAN deka ngendas ai mata ari mata semua orang"Allah Taala ngendas ai mata semua orang laban Iya Allah Taala ti bepenyinu sereta rindu merindang kitai lalu merinsa enggau kitai.
Dalam bacha Injil, Jesus mandangka kitai ati Allah Taala Apai. Iya sinu ati laban meda mayuh orang ti lapar lalu ngambi peluang meri sida makai. Pesan tu ukai ngasoh kitai sinu ati aja tang ngasoh kitai sama bela nitih ka Iya ti sinu lalu meri tulong ka orang bukai laban kitai tu orang Kristian.
Saritu, aram kitai ngasaika penyinu pengerindu Allah Taala dalam penusah ati kitai. Ari nya kitai ulih bejalai lalu mandangka penyiru ka orang bukai. Aram kitai meda pemerinsa orang lalu nulong sida.
Dalam aku besembiang, nama pesan ti ulih diterima aku ari Jesus saritu?

2020年12月2日将临期第一周星期三
省思
《依二十五:6-10》
《玛十五:29-37》
"像天主般有怜悯之心"
先知依撒意亚在现今这个面对疫情的社会说了这些有希望的话,"天主会把所有脸上的泪水抹干"。天主,抹干我们所有的泪水因为祂是位会安慰和同我们一起受苦并富有怜悯心的天主。
在这个福音里,耶稣表露了天父的心。祂对那些饥饿的人起了怜悯心并给予他们食粮。这个讯息不是要我们变得有情绪,而是来挑战我们,身为一位基督徒,我们对他人都有份怜悯心。今天就让我们在自己的失望和悲伤中感受到天主的怜悯之心。从这被爱的经验中,我们一起出去并分享这份怜悯心。让我们停止拒绝面对人们的痛苦。
省思题:
当我接着这些圣经章节祈祷时,我从耶稣的讯息当中得到了什么?

Acknowledgment: Reflections are based on "Prayer for Living: The Word of God for Daily Prayer Year B" by Sr. Sandra Seow FMVD.