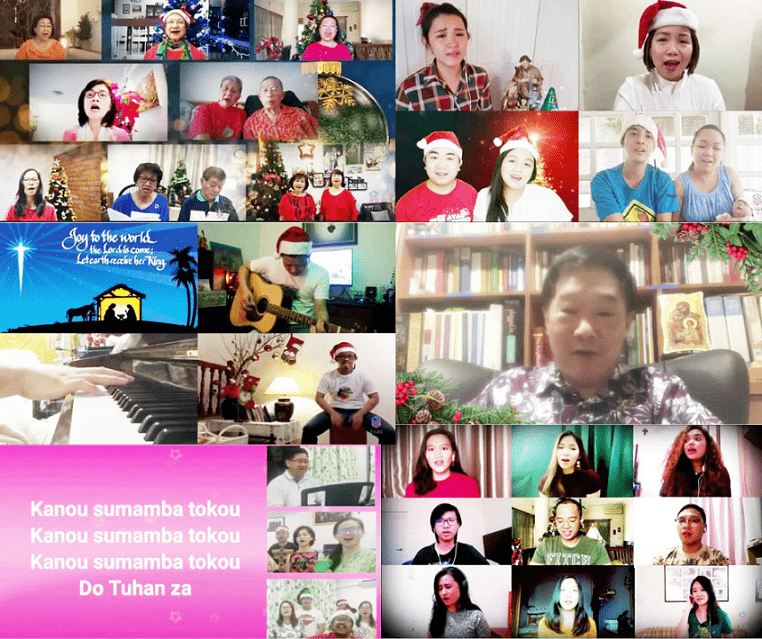 Christmas Carols performed by the different LJCCC 'choir' groups; presiding elder Anthony Lim (centre)
…a light that shines in the dark, a light that darkness could not over power… (Jn 1:3)
KOTA KINABALU – A light shines into the darkness of the pandemic that has disrupted the traditional house-to-house caroling. The Light of Jesus Christ Covenant Community (LJCCC) hosted their inaugural virtual Christmas carol singalong on the YouTube channel.
Originally meant to provide for the 300-strong members a means to bring the community family to pray and share together the Christmas festive joy, over 1800 joined the Dec 13 virtual carols event.
The Advent Christmas Caroling 2020 initiative, with the theme "Arise! Shine! For Your Light Has Come" was mooted by the Glory and Praise worship team who saw the potential of the community family coming together to share Christmas joy in a new way – the socially-distanced pandemic way.
So ho-ho-ho without further ado, and with the blessing from the leaders, the four language-music teams (English, BM, Chinese and Kadazan) recorded themselves singing separately in their respective language from the safety of their homes.
Though not as exhilarating as real life, our spirits were uplifted as we sang along with the Christmas Carols performed by the different 'choir' groups, and the Christmas Story was enhanced as we listened to the Readings in the various languages.
The members also exchanged greetings and banter during the live-chat of the one- and-half hour YouTube premiere.
On a more sober note, LJCCC presiding elder Anthony Lim reminded members in his Christmas message "So many things have changed because of the COVID-19 pandemic, but one thing we are sure that never changes is God's merciful love for us."
He added, Advent reminds us of Christ's coming to us as man in Jesus Christ, and of the need to prepare for His second coming. In fact, said the community elder, with all the uncertainties around us, Christ comes to encounter us every moment every day; but like the disciples on the road of Emmaus, we too have often failed to recognize Him.
Therefore, for the remaining days of Advent 2020, Lim called on the members to "ask God for the Holy Spirit to open our eyes to recognize Him, to open our hearts to receive Him anew" so that we may "allow His love to conquer our hearts" this Christmas.