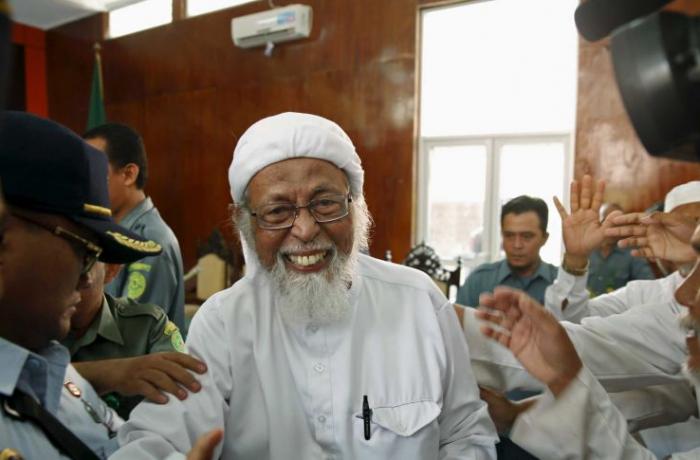 The leader of Jemaah Islamiyah served his 15-year sentence, thanks also to a 55-month reduction in his sentence. He now he will have to undergo a de-radicalization program. The Australian premier speaks of "distressing" news. Contradicting opinions among the relatives of the victims of the massacre.
JAKARTA – The Indonesian authorities this morning released Abu Bakar Bashir, emir of the terrorist group Jemaah Islamiyah (JI), sentenced in 2011 for supporting the 2002 Bali attacks which caused 209 victims, mostly foreign tourists.
The 82-year-old radical leader was held in a prison on the outskirts of the capital, Jakarta. A group of family members welcomed him at the exit, after serving the 15-year sentence imposed for financing international terrorism.
Experts believe he is the "mastermind" behind the attack on the popular tourist island.
Director of the Institute for Policy Analysis of Conflict in Jakarta, Sidney Jones, stresses that the operational chiefs would have been others, but he has "in fact given the green light" to the attack. "He didn't plan it – he says – but he is certainly the person who could have stopped him if he had said no".
Indonesian authorities report that Bashir "served his sentence well" while maintaining good conduct in prison. Now that he is out he will have to undergo a de-radicalization program. In addition, the police will monitor his behaviour and activities, while his son added that contacts outside the family are excluded for the foreseeable future due to the new coronavirus pandemic.
Over time, he has accumulated a 55-month reduction on the sentence, which is granted to prisoners on the occasion of the most important civil and religious holidays in the country.
The news of his release was met with mixed reactions in Indonesia and Australia, the country from which the majority of tourists killed in the explosions came. Canberra Prime Minister Scott Morrison speaks of "distressing" news for the families of the victims and that "sometimes the world is unfair".
Asked by the BBC Garil Arnandha, whose father was one of the victims of the attacks, he said he did not agree with Bashir's release "because in my opinion he is still very dangerous and has the potential to revive terrorism in Indonesia". His mother Endang disagrees: "As a victim of the bombs – says the woman – I have forgiven him". – Asia News