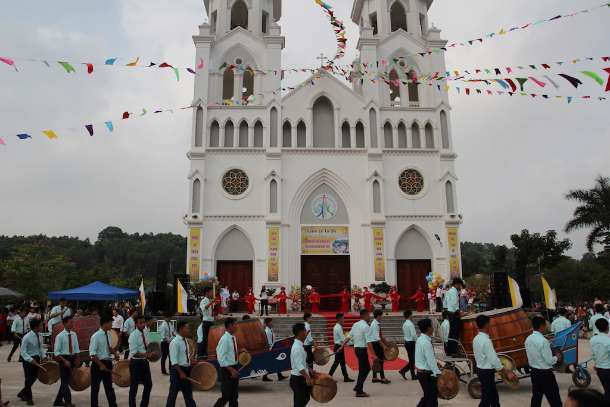 People play drums at the inauguration of Mong Son Church on Nov. 26 in Yen Bai province (Photo: UCA News)
By UCA News reporter, Yen Bai
Catholics in remote northern province celebrate $1.2 million church that took seven years to build
Thousands of people in a northern Vietnamese province have completed a new church half a century after they evacuated their houses and farms for the region's largest hydroelectric dam.
Emeritus Bishop John Mary Vu Tat of Hung Hoa consecrated and blessed Mong Son Church and parish house in Yen Binh district in the mountainous province of Yen Bai on Nov. 26. Some 50 priests joined the ceremony attended by 2,000 people including local government authorities.
"We thank God and Mother Mary who love this small community in a remote area and grant us this beautiful church, which we have dreamed of for the past 50 years," Peter Ngo Van Chien, a local Catholic, said with pride.
Chien, a carpenter, said it took seven years to complete the new church, which is dedicated to Our Lady of the Rosary, since they had financial problems and suspended construction for two years.
The 45-year-old father of five said his family donated money and volunteered to work at the construction site for months.
He said his father, now in his 80s, evacuated his houses and farms in 1967. He was among 50,000 people who had to leave their properties in the 1960s and 1970s for Thac Ba hydroelectric dam. The 234-square-kilometer dam inundated 30 parishes and subparishes.
Local people formed Mong Son Subparish in 1970 and erected a wood and leaf chapel. The parish with 3,000 members is now served by Father Peter Tran Van Huong.
Vicar General Father Dominic Hoang Minh Tien praised local people and benefactors who made generous donations and worked with one another to complete the new Gothic church.
"From now on, you have a good place to gather to pray, attend liturgical services, learn catechism and do other religious activities for your faith life," Father Minh said.
The cross-shaped church with two bell towers 40 meters in height is 800 square meters in area and enjoys panoramic views of Thac Ba dam. The church and a parish house decorated with colorful flags stand on a compound of 10,000 square meters.
Father Tien said the new church will be chosen to be one of the pilgrimage sites for local Catholics when Hung Hoa Diocese marks the 125th anniversary of its establishment next month.
Joseph Tran Van Lien, head of the parish council, said the parish spent 27 billion dong (US$1.17 million) on construction and buying land.
Lien said local Catholics expressed their deep gratitude to Father Michael Nguyen Tien Quang, the parish's first priest who served them from 2006-16. Father Quang raised funds, bought land and asked for building permits from government authorities. 
It took the parish four years to prepare for the new church' construction.
Father Joseph Nguyen Dinh Tuyen, who used to offer pastoral care to the parish, said it is hard to raise funds to build churches as local people have meager incomes and benefactors are severely affected by the coronavirus.
Father Tuyen, pastor of Yen Bai Parish and head of Yen Bai deanery covering 24 parishes and 100 subparishes serving 40,000 Catholics, said it is urgent for the local church to build churches replacing dilapidated chapels built over 50 years ago. Local people need proper facilities to meet their increasing religious needs.
The 52-year-old priest said the local government has relaxed its grip on building religious facilities for the past 25 years. In the past local people were not allowed to repair or build new churches.
He said 10 churches in the deanery are under construction, each costing 2-12 billion dong. – UCANews