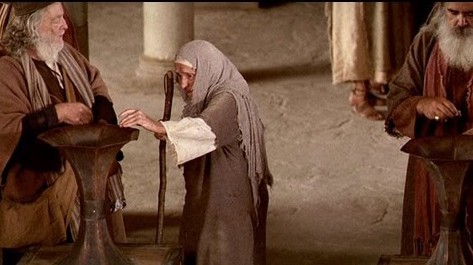 First reading Apocalypse 14:1-5
The redeemed have Christ and his Father's name written on their foreheads
In my vision I, John, saw Mount Zion, and standing on it a Lamb who had with him a hundred and forty-four thousand people, all with his name and his Father's name written on their foreheads. I heard a sound coming out of the sky like the sound of the ocean or the roar of thunder; it seemed to be the sound of harpists playing their harps. There in front of the throne they were singing a new hymn in the presence of the four animals and the elders, a hymn that could only be learnt by the hundred and forty-four thousand who had been redeemed from the world; they follow the Lamb wherever he goes; they have been redeemed from amongst men to be the first-fruits for God and for the Lamb. They never allowed a lie to pass their lips and no fault can be found in them.
Responsorial Psalm 23(24):1-6
Such are the men who seek your face, O Lord.
The Lord's is the earth and its fullness,
  the world and all its peoples.
It is he who set it on the seas;
  on the waters he made it firm.
Who shall climb the mountain of the Lord?
  Who shall stand in his holy place?
The man with clean hands and pure heart,
  who desires not worthless things.
He shall receive blessings from the Lord
  and reward from the God who saves him.
Such are the men who seek him,
  seek the face of the God of Jacob.
Gospel Luke 21:1-4
The widow's mite
As Jesus looked up, he saw rich people putting their offerings into the treasury; then he happened to notice a poverty-stricken widow putting in two small coins, and he said, 'I tell you truly, this poor widow has put in more than any of them; for these have all contributed money they had over, but she from the little she had has put in all she had to live on.'
___________________________________________
23rd November 2020 Monday 34th Week of Ordinary Time – St. Clement I
Reflection
Revelation 14:1-3, 4-5, Luke 21:1-4
"T-I-M-E"
Today, let us look at this poor widow and learn from her how to give the little we have out of genuine love for God. We live in a comfortable rich society where we have many things. However, our greatest poverty is often 'time'. Time is so valuable to us that we are constantly finding ways to get more of time so that we can do the things we want to do. Time is our 'two small coins' that Jesus is asking from us today to give to him out of genuine love. This might mean spending more time in prayer, or spending more time in helping out others in need, etc.
Question for reflection:
Do I love God enough to give him our two small coins today?

23 hb November 2020 Hari Isnin Minggu Biasa Ke – 34 – St. Clement I
Renungan
Wahyu 14:1-3, 4-5, Lukas 21:1-4
"M-A-S-A"
Hari ini marilah melihat janda miskin ini dan belajar daripadanya bagaimana memberi dari sedikit yang kita miliki kerana cinta sejati kepada Tuhan Kita hidup dalam masyarakat kaya yang selesa, di mana kita mempunyai banyak harta. Namun, kemiskinan terbesar kita adalah 'masa'. Masa sangat bernilai kepada kita sehingga kita terus mencari cara untuk mendapatkan lebih banyak waktu agar kita dapat melakukan banyak perkara yang ingin kita lakukan. Masa adalah 'dua syiling kecil' yang diminta Yesus dari kita hari ini. Ini mungkin bererti meluangkan lebih banyak waktu untuk berdoa, atau meluangkan lebih banyak waktu untuk membantu orang lain dan sebagainya.
Soalan renungan:
Adakah saya cukup mengasihi Tuhan untuk memberikan dua syiling kecil kepadaNya hari ini?

23 November 2020, Orou Kasaa' Minggu' Kristus Raja', St. Clement I
Pinaintalang 14:1-3, 4-5, Lukas 21:1-4
M-A-S-A
Orou raiti', ilai' takau ruandu' napuor ti am migila' intor riso ati kulaan mangani' koborok ondo' soroi ritakau no intor ra togom motopot ri Aki Kapuuno'. Mayan takau ra moonsoi ralalom pamagunan ondo' langkaya' ondo mokoondo' takau ra masuang kuliamos. Kabalu' pana raginio, itakau masalok makayaan tojojo ra masa. Masa iono mauli' ritakau ra rumayus takau maguyum ra ralan mangalap ra masuang masa mambaal ra kasagaan takau. Masa iono 'ruo ngausin boborok' takau ondo' kitaakon ri Jisus intor ritakau ra orou raiti' koson pataakon Riso intor ra togom motopot. Maaru' lair arati' ru gitio mangalap ra masa makiasi', kapoam mangalap ra masa mangindangan ra ulun ondo' makiindangan, am bokon-bokon poyo.
Pangkuatan ra paguangin:
1) Sama' kia togom aku ri Aki Kapuuno' ra mampataak Riso ra ruo ngausin boborok takau ra orou raiti'?

23-11-2020 Hari Satu Minggu Selama Ka-34 – St. Clement I
Renungan
Pemandang 14:1-3,4-5; Luke 21:1-4
"MASA."
Saritu, aram kitai mansik indu balu ti seranta tu lalu belajar ari iya jalai meri barang utai taja mit ketegal pengerindu kitai ti amat ka Allah Taala. Kitai udah suah diau dalam gerempong ti kaya endur kitai mayuh utai. Tang, kitai seranta ari gaya kitai magi masa. Masa tu berega ba kitai datai ka kitai maja begiga ka masa ti lebih ngambi ulih ngereja mayuh pengawa. Masa tu meh 'dua singkap
duit' kitai ti dipinta Jesus ba kitai saritu ketegal pengerindu ti amat. Reti nya, ngelimpang diri magi masa besampi tauka magi masa nulong orang bukai ti seranta, sereta tulong ti bukai.
Bisi aku amat rindu ka Allah Taala lalu meri Iya dua singkap duit kitai saritu?

2020年11月23日 常年期第三十四周双数年星期一 教宗圣克莱孟一世
省思
《默 十四:1-3,4-5》
《路廿一:1-4》
"时间"
今天,让我们不妨从一个穷寡妇身上学习所谓的"付出少"却是"真心的"原理。我们大家都处在在一个物质挺富裕的社会里,不缺所需。然而,仔细想想,我们最贫乏的确实是时间。时间太宝贵了以致我们想方设法去争取多一些时间,以便我们可以做自己要做的事情。哈,时间就是当今福音描述的"两文钱"!耶稣正是要我们真心地付出这"两文钱"。
这"两文钱"可以意味着挪出一些时间在祈祷上或在助人上。
省思题:
1) 试问自己,今天,我爱主吗?我愿意给祂这"两文钱"吗?

Acknowledgment: Reflections are based on "Prayer for Living: The Word of God for Daily Prayer Year A" by Sr. Sandra Seow FMVD.