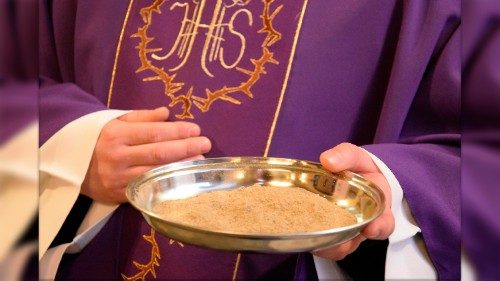 By Vatican News staff writer
A Holy See Press Office statement gives details of upcoming liturgical celebrations and Lenten Sermons.
On the morning of Wednesday 17 February, at 9.30 am CET, Pope Francis is scheduled to celebrate Holy Mass, Blessing and Imposition of Ashes at the Altar of the Chair, in St. Peter's Basilica.
A statement released by the Holy See Press Office says the ceremony will take place "in the presence of a very limited number of faithful according to the modalities used in the past months, in respect of the protection measures provided. On that day, the General Audience will not take place."
Lenten Sermons
The statement also reveals that the Prefecture of the Papal Household has announced that the Lenten Sermons for 2021 will be given by the Preacher of the Papal Household, Cardinal Raniero Cantalamessa OFM, on the theme "Who do you say I am?" (Matthew 16:15).
The Sermons will take place, as per the 2020 Advent meditations, in the Vatican's Paul VI Hall in order to allow for due distancing between participants.
Those invited to attend are Cardinals. Bishops, members of the Roman Curia, of the Papal Household, of the Vicariate of Rome, Superiors General of Religious Orders belonging to the Papal Chapel.
The sermons will take place in the presence of the Holy Father on the Fridays of Lent: 26 February, 5, 12 and 26 March at 9.00 am CET. – Vatican News