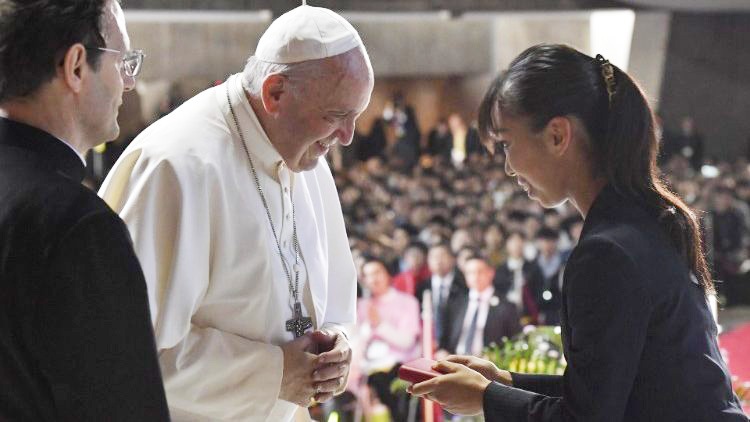 Pope Francis meets young people during his apostolic visit to Japan | Vatican Media
Valentina Rotondi, a social scientist with training in applied economics and econometrics, is a part of the Central Organizing Committee of "The Economy of Francesco". She talks about her long-term aims and expectations for the event.
The countdown is almost over. On Thursday 19 November, The Economy of Francesco event kicks-off setting into motion the 12 "EoF" thematic villages that will be working on key topics relating to a new, and more just, model of economy.
Preparatory work has been going on since the event was convoked by Pope Francis in 2019. At the time, the Holy Father asked economists and young people to give life to the idea of a different kind of economy, one that is more attentive to the weakest members of society and is not focused exclusively on increasing material wealth. 
The Economy of Francesco will come to life on a virtual platform due to the global coronavirus pandemic, and foresees three intense days of webinars and seminars streamed on the organization's official YouTube channel. 
The conferences feature internationally recognized key speakers, including Nobel Prize winner Muhammad Yunus and economists and experts such as Kate Raworth, Jeffrey Sachs, John Perkins, Vandana Shiva, Stefano Zamagni, Mauro Magatti, Juan Camilo Cardenas, Jennifer Nedelsky, Sr. Cécile Renouard as well as many top business entrepreneurs and managers. 
Among the members of the Central Organizing Committee for the initiative is Valentina Rotondi, a post-doctoral researcher at Oxford University and at SUPSI University in Lugano. 
Valentina, who is also coordinating the "CO2 of Inequalities" village, told Vatican News about how she got involved in "The Economy of Francesco" and of her hopes and long-term expectations for the initiative.
"It was a gift," Valentina Rotondi said, as she recalled having sent in her application without many expectations and then being invited to be part of The Economy of Francesco's Central Organizing Committee, where she has been directly involved in helping other young people around the world to join the event. 
An unprecedented event
She pointed out that this is "completely innovative and completely new" in the fields of social sciences, economics and applied economics.
"I really think it will change the way we think about our economy, the way we think about people living in our economy," and about how we can change this economic model that is having adverse effects on so many people around the world, she explained.
Valentina said that in the next three days she will be coordinating workshops, in particular one that involves Kate Rawarth and John Perkins, together with 12 young people from around the world who are among those who have given life to The Economy of Francesco.
"And then I will listen, listen to the contribution of other important people around the world, and these people are young people trying to change the economic background in their countries of origin and in the world in general," she said.
Of course, she said, the legacy of the event must live on and have an impact, so Valentina described these three days as "a sort of middle-way event" because it comes on the heels of a lot of hard work that started the process and that will be continued over the years to come.
A multi-faceted process   
"The process is based on different pillars: there are people working in the stream of research and publication, there are people working in the stream of business and innovative businesses, and there are people working in the stream of community projects," she explained.
Each participant, she added, now has a task that aims at bearing concrete results in the next month.
For example, in the "CO2 Inequality" village that Valentina coordinates, there are some people from Argentina, Peru and Italy working to build places where children can go and learn about inequalities and how to tackle inequalities in their daily lives.
A new perspective for academic training
Valentina is an academic, deeply involved in university life as she continues to research new models and principles in her quest to provide alternative solutions to unjust systems.
One of her hopes, she said, is that the fruits of The Economy of Francesco will find their way into the curricula of academic institutions. For sure, she said, the event will inform her own work.
"I will take the principles of this event and transfer them into my research," she said, as well as try to establish some specific courses related to "The Economy of Francesco".
Pope Francis
Valentina said Pope Francis's contribution to this conversation has been fundamental.
"His contribution has been, first of all, to call young people, to trust their intelligence and ability in thinking about the future, and to trust in their enthusiasm," she said.
And then, she concluded, his documents – his encyclicals – are at the basis of The Economy of Francesco and provide the framework within which we can build a new economy. – Vatican News