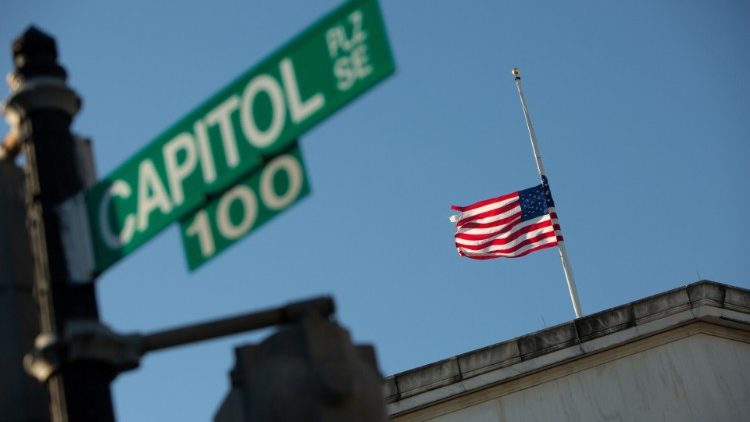 An American flag flies at half-mast at the Longworth House Office Building in Washington 
In the wake of last week's assault on Capitol Hill in Washington D.C., the World Council of Churches condemns the violence, and calls on Churches in the US to prophetically point to the path of peace.
The World Council of Churches (WCC) has expressed support to US Churches, amidst political turmoil following the assault on the US Capitol in Washington by pro-Trump supporters.
In the aftermath of the 6 January riots, which left five people dead, US Church leaders, including Catholic bishops, have firmly condemned the incident.
In a strong-worded statement, Jim Winkler, president and general secretary of the National Council of Churches (USA), branded the mob attack as "outrageous, unacceptable, shameful and a disgrace." He said, "Every effort must be made by law enforcement to restore order immediately" and that all who have been involved, "those who participated as well as those who have incited this violence, must be held accountable."
An unexpected display of violence
In a letter sent to US Churches, WCC interim general secretary also expressed dismay at the assault.
"We witnessed scenes that few of us ever expected to see," Rev. Prof. Dr Ioan Sauca writes. "Sadly however, when division, confrontation, denigration and misinformation become the primary modalities of political discourse, and when the pursuit of power supersedes the common good as the main objective of political leaders, such outcomes – or worse – are ultimately inevitable," he notes.
Rev. Sauca noted that the WCC has been inspired by the "Christian witness that many Church leaders in the United States have given throughout the years for peace, for justice, against racism, and for respect for the equal God-given human dignity and rights of all people." 
Shepherds amid fear and distrust
He then reiterates the WCC's solidarity with member Churches in the US, as they raise their "prophetic voices" in the midst of this acute crisis and as they "pray for a peaceful transition of power respecting the will of the people."
"You are called to be the shepherds of a deeply divided, distrusting and frightened flock, whose fears and differences have been played upon by those seeking to secure and maintain political power for themselves. Great harm has been done to your Republic in the process," the letter states.
"The burden of rebuilding trust and promoting reconciliation in such a widely polarized society is an impossibly heavy one for you to carry alone," Rev. Sauca adds, assuring US Christian Churches "of the accompaniment and support of sister Churches around the world" as they face these challenging times in their country. 
"May your Churches and Country find the peace and joy assured to us in the Scriptures," Sauca concludes. "And we pray that God will lead us all together and be our guide on the path of understanding and compassion, towards justice and peace." – Vatican News