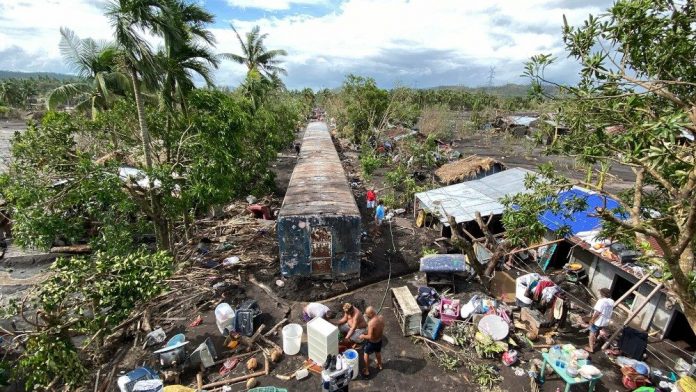 Aftermath of Typhoon Goni in the Philippines (Photo: VaticanNews/ANSA)
KUCHING – Tropical cyclones have recently devastated several large areas in the Philippines, Vietnam, Cambodia and Laos.
Already badly hit by the effects of the COVID-19 pandemic since early this year, such calamities have added to the woes of their people and communities.
Some of these countries and Churches have put out a global appeal for help. They need shelter, food, protection, healthcare, and support to rebuild the lives of those affected.
The series of cyclones since October, have caused massive flooding, damage to homes, public infrastructure, agriculture, loss of livestock and suffering to more than 32 million people. Nearly 3 million people are in urgent need of assistance.
Archbishop Simon Poh, in an announcement made after celebrating the Solemnity of Christ the King Mass last Sunday, informed that "The Catholic Bishops' Conference of Malaysia (CBCM) has decided to respond by appealing to all Catholics to contribute to our 'Disaster Relief Fund'.
"The contributions from all dioceses will be pooled and sent to those affected through the respective Church and Caritas offices in these countries. In solidarity with our South East Asian Churches, our Dioceses and Parishes in Malaysia will be contributing to this Relief Fund."
The e-collections for the celebration of the live telecast 1st Sunday of Advent Mass on 29 November from St Joseph's Cathedral, will be disbursed to this Fund.
Contributions can be submitted via Sarawak Pay or the Archdiocesan Hong Leong Bank account (contributors are advised to verify the name of the merchant first).
Cheques issued must indicate "Disaster Relief Fund" on the back of the cheque, or in the comment section for online donations. This appeal will close on 30 November 2020.
The Archbishop also thanked everyone for their act of solidarity in this moment of crisis and suffering. "Let us pray to the Lord for strength and compassion, as well as relief for all these people", he added. – Today's Catholic