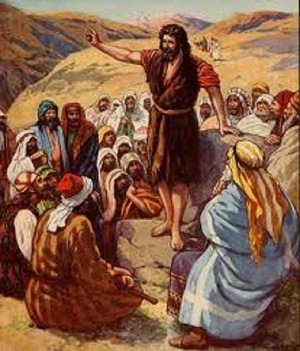 Image by  Adventbiblestudy
First reading Ecclesiasticus 48:1-4,9-12
The prophet Elijah will come again
The prophet Elijah arose like a fire,
  his word flaring like a torch.
It was he who brought famine on the people,
  and who decimated them in his zeal.
By the word of the Lord, he shut up the heavens,
  he also, three times, brought down fire.
How glorious you were in your miracles, Elijah!
  Has anyone reason to boast as you have?
Taken up in the whirlwind of fire,
  in a chariot with fiery horses;
designated in the prophecies of doom
  to allay God's wrath before the fury breaks,
to turn the hearts of fathers towards their children,
  and to restore the tribes of Jacob,
Happy shall they be who see you,
  and those who have fallen asleep in love.
Responsorial Psalm 79(80):2-3,15-16,18-19
God of hosts, bring us back; let your face shine on us and we shall be saved.
O shepherd of Israel, hear us,
  shine forth from your cherubim throne.
O Lord, rouse up your might,
  O Lord, come to our help.
God of hosts, turn again, we implore,
  look down from heaven and see.
Visit this vine and protect it,
  the vine your right hand has planted.
May your hand be on the man you have chosen,
  the man you have given your strength.
And we shall never forsake you again;
  give us life that we may call upon your name.
Gospel Matthew 17:10-13
Elijah has come already and they did not recognise him
As they came down from the mountain the disciples put this question to Jesus, 'Why do the scribes say that Elijah has to come first?' 'True;' he replied 'Elijah is to come to see that everything is once more as it should be; however, I tell you that Elijah has come already and they did not recognise him but treated him as they pleased; and the Son of Man will suffer similarly at their hands.' The disciples understood then that he had been speaking of John the Baptist.
____________________________________
12th December 2020 Saturday 2nd Week of Advent – Feast of Our Lady of Guadalupe.
Reflection
Zechariah 2: 14-17 or Revelation 11: 19a; 12: 1-6a, 10ab, Luke 1: 26-38 or Luke 1: 39-47
"An ordinary woman with an extraordinary faith"
What was extraordinary about Mary was her great faith in God. Her faith led her to walk the path of self-giving love. She knew that her choice to do God´s will would cause her to be in lots of trouble. In her village and among her family members, she would be disgraced and shamed for having a child outside of marriage. With Joseph, she risked losing Him as He would most likely leave her. Yet, she fixed her eyes on God and His promise.
As we journey through life with all its uncertainties, let Mary lead us by the hand, and share with us her faith so that we can keep trusting in God. Let us once again allow ourselves to have the faith to say "Yes" to do God´s will and walk the path that leads us to give ourselves for the sake of love.
Question for reflection:
As I read Luke 1:26-38, what is the message that God wants to tell me?

12 hb Disember 2020 Hari Sabtu Minggu Adven Ke – 2 – Pesta S. Maria Guadalupe.
Renungan
Zakariah 2: 14-17 atau Wahyu 11: 19a; 12: 1-6a, 10ab,
Lukas 1: 26-38 atau Lukas 1: 39-47
"Seorang wanita biasa dengan iman luar biasa."
Apa yang luarbiasa tentang Maria adalah kepercayaannya yang besar kepada Tuhan. Imannya memimpin dia ke jalan kasih yang memberi diri sendiri. Dia tahu bahwa pilihannya untuk melakukan kehendak Allah akan memberi banyak masalah kepada dirinya. Di desanya dan di antara anggota keluarganya, dia akan dipermalukan kerana mempunyai anak di luar perkahwinan. Bersama dengan Yusuf, dia berisiko kehilangannya kerana kerana kemunginan besar dia akan meninggalkannya. Namun, dia tetap memusatkan perhatiannya kepada Tuhan dan janji-Nya.
Pada saat kita melalui kehidupan yang tidak pasti, marilah membiarkan Maria memimpin tangan kita dan mengongsikan kepada kita imannya agar kita tetap percaya kepada Tuhan. Marilah sekali lagi membenarkan diri kita untuk memiliki iman untuk mengatakan "Ya" untuk melakukan kehendak Tuhan dan berjalan di jalan yang memimpin kita untuk memberi diri kita demi kasih.
Soalan Renungan: :
Ketika saya membaca petikan Lukas 1:26-38, apakah mesej yang ingin disampaikan Tuhan kepada saya?

12 Disember 2020, Minggu' Adven Karuo, Feast of Our Lady of Guadalupe
Jakaria 2:14-17 kapoam Pinaintalang 11:19a, 12:1-6a, Lukas 1:26-38 kapoam 1:39-47
Ruandu' ondo' kaindalaman am ra kaintapatan ondo' suai ra kaindalaman
Atan ondo' suai ra kaindalaman intor i Maria iono maayo kaintapatan nano ri Aki Kapuuno'. Kaintapatan nano maningganai riso mugar ra babayaan ra mampataak ra inan ralalom togom. Nakapandai io ra pilian nano mambaal ra kasagaan ri Aki Kapuuno' mangkinibit riso mokoondo' ra masuang kapaganan. Giu' ra namagunan nano am gino ngai' ulun ru sasambaloi nano, asabin am tauyuon io sabap ra mokoondo' ra anak kalo poyo makaralaki. Ri Jusup ti, maar poyo raan i Maria ti makapantuliar riso ra ilain ayuk masaga' io mangiruan ri Maria. Kaa', naaru' noyo ra magilong io ri Aki Kapuuno am bantu' Nano.
Paat ra itakau mangkiralan ralalom kaayagan ondo' kalo maaruan ti, iowo' i Maria maningganai ra mangitang, am magapu' ra kaintapatan nano ritakau maa' raginio mabuli' takau rayus mangintopot ri Aki Kapuuno'. Ibok takau igondo' poyo mangiou ra inan takau mokoondo' ra kaintapatan koson mindagu "Iou" ra mambaal ra kasagaan ri Aki Kapuuno' am mugar ra babayaan ondo' maningganai ritakau koson mampataak ra inan takau sabap ra togom.
Pangkuatan ra paguangin:
it1) Ra aku mambasa' ra Lukas 1:26-38, atan kia bilin ondo' masaga' i Aki Kapuuno' mambala' ritakau?

12-12-2020 Hari Enam Minggu Advent Ka-2 – Hari Gawai Indai kitai ari Guadalupe.
Renungan
Zakariah 2:14-17/Pemandang 11:19a;12:1-6a,10ab
Luke 1:26-38/Luke 1:39-47
"Indu ti biasa ti ngembuan pengarap ti luarbiasa."
Utai ti luarbiasa pasal Maria nya meh pengarap iya ti besai dalam Allah Taala. Pengarap iya mai iya niti jalai pengerindu ti nyerah diri. Iya nemu enti iya milih ngereja peneka Allah Taala, iya tentu deka mayuh penanggol. Ba menua iya empu sereta dalam bilik iya, iya tentu dibeduan laban betubuh bisi apin iya jadi. Enggau Joseph, iya tentu ditinggalka. Tang iya nguing diri ngagai Allah Taala sereta janji Iya. Dalam pejalai pengidup kitai ti bedau tentu, awak Maria ngiring jari kitai lalu bekunsi enggau kitai pengarap iya ngambi kitai arap ka Allah Taala. Aram kitai sekali agi meri awak ka diri nyaut kangau ngereja peneka Allah Taala lalu bejalai ngagai jalai nyerah diri ketegal pengerindu.
Dalam bacha Luke 1:26-38, nama pesan Allah Taala ka aku?

2020年12月12日将临期第二周星期六 瓜达盧佩圣母。
省思
«匝二:14-17»或 «默十一:19a;十二:1 6a,10ab»
«路一:26-38»或
«路一:39-47»
"一个非凡信仰的普通女人"
玛利亚的非凡之处在于她的伟大信仰天主。她的信仰使她走上了献爱的道路。 她知道自己选择承接天主的旨意会给她带来很多的麻烦。 在她的 村庄和她的家人中,她会因在未结婚而生孩子而感到羞耻和羞愧。她和若瑟丈夫在一起,她冒着失去他的危险, 他很可能会离开她