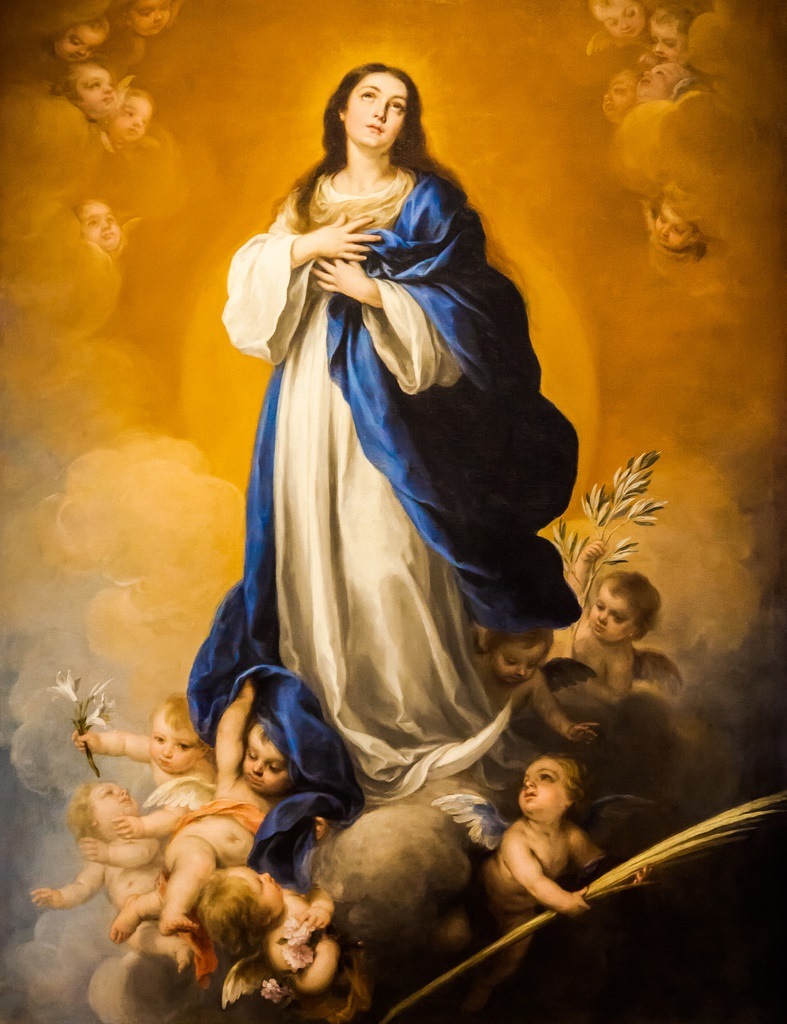 Image by google.com
First reading Genesis 3:9-15,20
The mother of all those who live
After Adam had eaten of the tree the Lord God called to him. 'Where are you?' he asked. 'I heard the sound of you in the garden;' he replied 'I was afraid because I was naked, so I hid.' 'Who told you that you were naked?' he asked 'Have you been eating of the tree I forbade you to eat?' The man replied, 'It was the woman you put with me; she gave me the fruit, and I ate it.' Then the Lord God asked the woman, 'What is this you have done?' The woman replied, 'The serpent tempted me and I ate.'
  Then the Lord God said to the serpent, 'Because you have done this,
'Be accursed beyond all cattle,
all wild beasts.
You shall crawl on your belly and eat dust
every day of your life.
I will make you enemies of each other:
you and the woman,
your offspring and her offspring.
It will crush your head
and you will strike its heel.'
The man named his wife 'Eve' because she was the mother of all those who live.
Responsorial Psalm 97(98):1-4
Sing a new song to the Lord for he has worked wonders.
Sing a new song to the Lord
  for he has worked wonders.
His right hand and his holy arm
  have brought salvation.
Sing a new song to the Lord for he has worked wonders.
The Lord has made known his salvation;
  has shown his justice to the nations.
He has remembered his truth and love
  for the house of Israel.
Sing a new song to the Lord for he has worked wonders.
All the ends of the earth have seen
  the salvation of our God.
Shout to the Lord, all the earth,
  ring out your joy.
Sing a new song to the Lord for he has worked wonders.
Second reading Ephesians 1:3-6,11-12
Before the world was made, God chose us in Christ
Blessed be God the Father of our Lord Jesus Christ,
who has blessed us with all the spiritual blessings of heaven in Christ.
Before the world was made, he chose us, chose us in Christ,
to be holy and spotless, and to live through love in his presence,
determining that we should become his adopted sons, through Jesus Christ
for his own kind purposes,
to make us praise the glory of his grace,
his free gift to us in the Beloved,
And it is in him that we were claimed as God's own,
chosen from the beginning,
under the predetermined plan of the one who guides all things
as he decides by his own will;
chosen to be,
for his greater glory,
the people who would put their hopes in Christ before he came.
Gospel Luke 1:26-38
'I am the handmaid of the Lord'
The angel Gabriel was sent by God to a town in Galilee called Nazareth, to a virgin betrothed to a man named Joseph, of the House of David; and the virgin's name was Mary. He went in and said to her, 'Rejoice, so highly favoured! The Lord is with you.' She was deeply disturbed by these words and asked herself what this greeting could mean, but the angel said to her, 'Mary, do not be afraid; you have won God's favour. Listen! You are to conceive and bear a son, and you must name him Jesus. He will be great and will be called Son of the Most High. The Lord God will give him the throne of his ancestor David; he will rule over the House of Jacob for ever and his reign will have no end.' Mary said to the angel, 'But how can this come about, since I am a virgin?' 'The Holy Spirit will come upon you' the angel answered 'and the power of the Most High will cover you with its shadow. And so the child will be holy and will be called Son of God. Know this too: your kinswoman Elizabeth has, in her old age, herself conceived a son, and she whom people called barren is now in her sixth month, for nothing is impossible to God.' 'I am the handmaid of the Lord,' said Mary 'let what you have said be done to me.' And the angel left her.
_______________________________________________
Regional Biblical Commission DAILY REFLECTION. Renungan Harian Komisi Alkitab Serantau
( Malaysia, Singapore & Brunei) Rabu 8hb Disember 2021. MINGGU KEDUA ADVEN
8th December 2021 Wednesday 2nd Week of Advent – Immaculate Conception of Mary.

Reflection
Genesis 3:9-15, 20, Ephesians 1:3-6, 11-12, Luke 1:26-38
"Mary's "Yes""
Today, we celebrate the feast of the Immaculate Conception of Mary. Mother Mary's life was a constant "Yes" to God's will. Though she was "deeply disturbed" by what she heard from God, she trusted Him and wholehearted gave her "Yes" to be the mother of Jesus. What moved Mary to put aside her plans, set aside her fears and say "Yes" to God? Her total love for God opened her heart to trust Him and surrender herself to Him.
Mary, the mother of Jesus, is also our mother. As our mother, she constantly invites us to place God at the center of our lives and love Him with all our heart, mind and strength. With Him in our hearts, may we respond to His presence and give our "Yes" to His purpose for our lives. Let us also never forget that Mary, our Mother, is our companion in our lives, and thus, we can count on her to guide us to become the persons God wants us to be.
Question for reflection:
Do I listen and respond with a "Yes" to all what God wants from me?

8 hb Disember 2021 Hari Rabu Pertama Masa Adven – Pesta Maria Dikandung Tanpa Noda.
Renungan
Kejadian 3:9-15, 20, Efesus 1:3-6, 11-12, Lukas 1:26-38
"Ya" Maria"
Hari ini kita merayakan pesta Maria dikandung Tanpa Noda. Kehidupan Bonda Maria adalah "Ya" yang berterusan melakukan kehendak Allah, Walaupun dia "sangat terganggu" dengan apa yang didengarnya dari Allah, dia percaya kepadaNya dan memberikan jawapan "Ya" dengan sepenuh hati untuk menjadi ibu Yesus. Apakah yang menggerakkan Maria untuk melupakan ketakutannya dan mengatakan "Ya" kepada Tuhan? Kasihnya yang sepenuh hati kepada Allah membuka hatinya untuk percaya kepadaNya dan menyerahkan dirinya kepadaNya.
Maria, ibu Yesus, adalah juga ibu kita. Sebagai ibu kita, dia terus menjemput kita untuk meletakkan Tuhan sebagai pusat kehidupan kita dan mengasihiNya dengan sepenuh hati, minda dan kekuatan kita. Bersama denganNya dalam hati kita,t semoga kita membalas kehadiranNya dengan memberikan "Ya" kita kepada tujuanNya untuk hidup kita. Jangan sekali-kali kita lupa bahawa Maria, Ibu kita adalah sahabat kita dalam kehidupan kita dan oleh kerana itu, kita dapat bergantung kepadanya untuk membimbing kita untuk menjadi peribadi yang dikehendaki Tuhan.
Soalan renungan:
Adakah saya mendengar dan memberi jawapan "Ya" terhadap kehendak Tuhan untuk hidup saya?

08 Disember 2021, Orou Katalu Minggu' Adven Katalu, _Pesta Maria Dikandung Tanpa Dosa_
__________________*Kasaukan 3:9-15, 20, Ipisus 1:3-6, 11-12, Lukas 1:26-38*Panusub i Aki Kapuuno' ra malaikat Nano, i Gabriil mongoi ra Nasarit, rondo' pekan ru libung Galilia. Sinusub i Gabriil mongoi ra samgulun ralaa, makainggalan i Maria. Ralaa ti makatamung makainggalan i Jusup, am io ti intor ra papag ru raja' Daut ra galing i. Ratong malaikat no ri Maria am indagu, "Kaansayan rirun, okou no totopot kaansayin ru Tuhan! Tuhan mabaya' rirun!" Naliangan kaga' i Maria nakaining ra ragu ru malaikat i, saboi nampaguang io, atan arati' ru ragu ni. Indagu poyo malaikat no riso, "Maria, pai' kalaa', sabap ra maansayan i Aki Kapuuno' no rirun. Maapang kou am maganak kou ra sangulun anak ungkuyon. Inggalani' anak no i Jisus. Masauk Io ra sangulun maatang kaga' am Io ti sabiton Anak ru Tuhan Ondo' Masawat Kaga'. Saukon Io ri Aki Kapuuno' ra sangulun raja', koson ra kinamatuaan Nali, i raja' Daut. Mantilayun Io mamarinta ra papag ri Jakub am pamarintaan Nano kolondo' pupus." Indagu i Maria ra malaikat no, "Aku ti ralaa' am kalo igondo' lamput ra ungkuyon. Ati kulaan masauk baal raginio?" Taam malaikat no, "Matong Ambiluo ri Aki Kapuuno' rirun am kuasa' ri Aki Kapuuno' sumoroi rirun. Ginio sabap ra anak ondo' anakon muno sabiton ra Anak ri Aki Kapuuno' ondo' matulai. Ilai', i Ilasabit pabukat muno, maapang io onom ngambulan noyo, kabalu' pana matutuo io no am ulun mindagu ra tabanang io. Kaa' kolondo' kalo mabaal ri Aki Kapuuno'." Indagu i Maria, "Aku ti ulipon ru Tuhan. Polosoon noyo masauk raki' koson ra rinagu muni." Liot boo malaikat no nangiruan ri Maria.
Iou kon ri Maria
Orou raiti', mangiantak takau ra Pesta Maria dikandung tanpa dosa. Kaayagan ri Ina' Maria layun ra "Iou" ri Aki Kapuuno' kasagaan ri Aki Kapuuno'. Kabalu' pana ra naliangan kaga' i Maria paat ra io nakaining ra intor ri Aki Kapuuno', mangintopot io Riso ngai' ru guang pinataak no "Iou" koson masauk ra ina' ri Jisus. Atan kia nakabuir ra guang ri Maria koson napaingkiing ra inatangan nano, napasigulu ra laa' nano am minindagu "Iou" ri Aki Kapuuno'? Ngai' ru togom nano ri Aki Kapuuno' nangukab ra guang nano ra nangintopot Riso am nampataak ra inan nano Riso.
I Maria, ina' ri Jisus, ondo' niayuk ina' takau. Koson ra ina' takau, rayus mangkimait ritakau paayanon tanga' i Aki Kapuuno' ralalom kaayagan takau am motogom Riso ra sotopot-topot ru guang takau, pangkaraan takau am kaikangan takau. Io no soroi ralalom ru guang takau, gama' ru tinongon takau kasaangan Nano am pataakon "Iou" takau ra kuayan Nano ra kaayagan takau. Ibok takau niayuk ra kalo liluanin i Maria, Ina' takau, mamparangan ritakau ralalom kaayagan takau, am ginio nai ra, malansan takau riso koson mangila' ritakau masauk ra ulun ondo' masaga' i Aki Kapuuno' ra itakau masauk koson raginio.
____________________
Pangkuatan ra paguangin:
Rongogon am taamon ku kia ra "Iou" ra ngaangai' atan ondo' kasagaan ri Aki Kapuuno' intor raki'?

08-12-2021 Hari Besai Maria Dara Tuchi Dikamai Nadai Bepenyalah.
Renungan
Pemungkal 3:9-15,20, Eph 1:3-6,101-12, Luke 1:26-38.
"Maria 'Setuju'"
Saritu kitai ngintu Hari Besai Maria Dikamai Nadai Bepenyalah. Pengidup Indai Maria seruran "Setuju" ka nitih ka peneka Allah Taala. Taja iya "beba runding" ninga pesan ari Allah Taa, Maria arap ka Iya sereta nyerah segenap ati "Setuju" nyadi Indai Jesus. Nama utai ti ngerak Maria nyerah ka semua atur iya, penakut ati iya lalu nyaut "Setuju" ngagai Allah Taala? Pengerindu iya ti besai ka Allah Taala muka ati iya awak arap sereta nyerah ka diri ngagai Iya.
Maria, indai Jesus, indai kitai mega. Laban iya indai kitai, iya seruran ngangau kitai awak nyadi ka Allah Taala pun pangkal pengidup kitai sereta rindu ka Iya enggau segenap ati, runding sereta pengering kitai. Sertai Iya dalam ati kitai, kitai ulih nyaut Iya ti diau enggau kitai lalu kitai "Setuju" nyadi ka tuju Iya dalam pengidup kitai. Aram kitai meruan ingat ka Maria, indai kitai, nyadi kaban ti bejalai enggau kitai dalam pengidup, nya alai kitai tau arap ka iya ulih ngiring ngembing kitai nyadi orang nitih ka peneka Allah Taala.
Bisi aku ninga sereta nyaut "Setuju" ka semua peneka Allah Taala ari aku?

2021年12月8日 将临期第二周星期三圣母无染原罪节
省思
《创三:9-15,20》
《弗一:3-6,11-12》
《路一:26-38》
" 玛利亚的"是""
今天,我们庆祝圣母无染原罪节。圣母玛利亚的一生始终是对天主的旨意说"是"。 虽然她从天主那里所听到的"深感不安",但她相信祂并且全心全意允诺成为耶稣的母亲。 是什么使玛利亚搁置她的计划,摆脱她的恐惧并且向天主说"是"?她对天主那份完全的爱,促使她敞开心扉,去相信并且把自己交托于祂。
玛利亚,耶稣的母亲,也是我们的母亲。 作为我们的妈妈,她不断邀请我们将天主置于我们生活的中心并且全心全灵全意的爱祂。 有祂在我们心中,愿我们回应祂的同在,并且对祂在我们生活的目的说"是"。让我们也永远不要忘记,我们的母亲玛利亚是我们生活中的伴侣。因此,我们可以指望她引导我们成为天主所希望我们成为的那个人。
圣思题:
我是否倾听并以"是"回应天主对我的所有要求?

Acknowledgment: Reflections are based on "Prayer for Living: The Word of God for Daily Prayer Year C" by Sr. Sandra Seow FMVD.