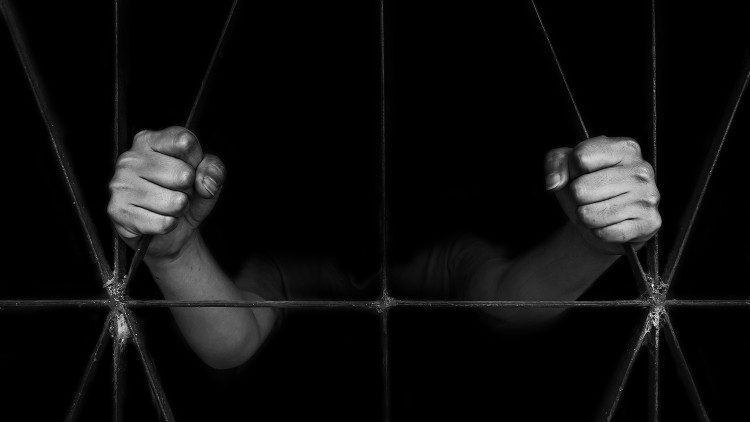 Holy See calls for joint efforts to combat trafficking in persons  (©yupachingping – stock.adobe.com)
Archbishop Gabriele Caccia, Permanent Observer of the Holy See to the United Nations, highlights the importance of partnerships and collaboration among States, as well as faith-based and civil organizations to combat the scourge of trafficking in persons.
Speaking on Tuesday at the High-Level Meeting on the Appraisal of the UN Global Plan of Action to Combat Trafficking in Persons, Archbishop Gabriele Caccia, Permanent Observer of the Holy See to the United Nations called for international cooperation and data collection on human trafficking in order to evaluate the progress made and the remaining gaps on the objectives that underpin it.
He noted that despite the increasing number of states that have developed national data collection systems on trafficking in persons in the past decades, world data is still limited and that weakens more effective international action.
Covid-19
Archbishop Caccia said that the Covid-19 pandemic has made the fight against human trafficking more complex as "it has made victims more isolated and less visible" while its socio-economic consequences have "exacerbated the vulnerability of those most at risk of being trafficked, including the many millions of women and men who have lost their jobs and have been left without social support."
Women and girls disproportionately affected
The vast majority of victims of trafficking are women and girls, the Archbishop said. They are "trafficked, sold, coerced or subjected to conditions of slavery in various forms and in various sectors, particularly sex trafficking."
To combat this scourge, he recommends eradicating practices such as pornography and prostitution that "dehumanize women and girls and reduce their bodies to mere objects of gratification" adding that numerous studies have shown that "pornography and prostitution contribute to trafficking."
Children victims of trafficking
Children, especially those from households and those without parental care are also not spared by traffickers. The archbishop noted that they account for one-third of trafficking victims detected, especially in the poorest countries where trafficking is linked to the broader problem of child labour.
Furthermore, school closures due to the Covid-19 pandemic have added millions of children to the ranks of those vulnerable to trafficking.
Progress to build upon
In spite of the concerning situation and the challenges, Archbishop Caccia acknowledges the significant progress that has been made in a number of crucial areas in the fight against human trafficking.
He noted that many of the social, economic, cultural and political factors that make people vulnerable to human trafficking have been identified and comprehensive policies and programs to address them have been formulated.
In addition, there are many services in place to identify and liberate victims of trafficking, as well as regularize their situation and put them on the path to rehabilitation and recovery. This has also come with a growing awareness and legal recognition that victims should not be inappropriately punished or prosecuted for acts they committed as a result of being trafficked.
More so, advances have been made in formulating legal norms to investigate, prosecute and punish traffickers, linking trafficking with other forms of organized crime and corruption, and fostering cooperation at and across borders. More countries have criminalized trafficking in the past decade and every year, more traffickers are being brought to justice.
Need for partnerships, collaboration
Archbishop Caccia then noted that partnerships among States and stakeholders have been strengthened, giving a basis for concerted work that must always be enhanced. In this regard, he stressed the need for cooperation between local authorities, national governments and faith-based organizations, holding up the example of Talitha Kum (an international network of consecrated life against human trafficking) present in 92 countries and on 6 continents, which has helped address root causes of trafficking and collaborates with law enforcement authorities in the fight against the scourge.
Concluding, the Archbishop restated the Holy See's commitment to playing its role in preventing, denouncing and combatting trafficking, and in "promoting a model of cooperation based on fraternity, solidarity, and commitment capable of remedying the globalization of indifference in which human trafficking thrives." -Vatican News