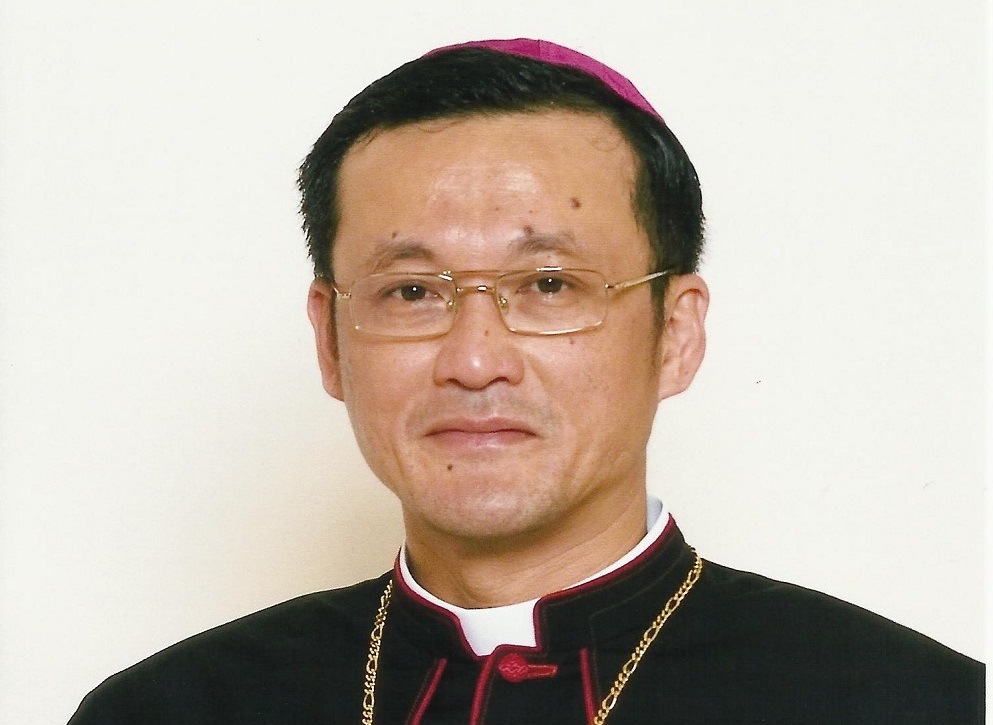 To all clergy, religious and lay faithful of the Archdiocese
PASTORAL LETTER
"Save us Lord, we are going down!" and He said to them, "Why are you so frightened, you men of little faith?" (Mt. 8:25-26)
In the evening of March 27, 2020 Pope Francis walked alone in the empty St. Peter's square in the glistering rain towards a covered platform where he read and reflected the passage on the "Calming of the storm", inviting the Church and the world to hold on to Jesus Christ in the midst of the pandemic that has inflicted the entire world.
Today after 100 days since that event, the number of daily active COVID-19 cases in Malaysia has sharply reduced. Indeed, God has been merciful to us in spite of our little faith. To Him be praised and glory! Let us continue to cling to Him as we sail through the pandemic storm.
We are now at the recovery phase of the lockdown. The Recovery Movement Control Order (RMCO) is expected to last until 31st August 2020. As a move to gradually return to normal, our Government has allowed more economic and social activities to be resumed in the country, one of which is the reopening of the places of worship for public.
The Federal Ministry of National Unity and the Sabah Ministry of Law and Native Affairs have been entrusted to oversee the resumption of non-Islamic religious services. Standard Operational Procedures (SOPs) have been issued for the compliance of the churches and temples.
After consulting all quarters, I am pleased to announce that churches in all parishes in the Archdiocese of Kota Kinabalu will be resuming public Masses on the weekend of 11th and 12th July 2020. I believe many of you are longing and looking forward to receive the Eucharistic Lord.
It has been a long 15 weeks of deprivation, not only in the reception of the sacrament but more so to experience Church as communion. As abiding citizens, we have complied with the MCO because of our faith in God and for the common good of all.
Though the pandemic is not yet over, our wait to freely attend Mass will be shortened if everyone adheres strictly to the protocol. I say "freely" because, to comply with social distancing, we are only allowed to fill one third of the capacity of the church. That means not all church goers can go to Mass as and when they like.
To ensure that everyone will have a chance to attend Mass, there will be some forms of regulation by the parishes. I hope you understand why the need for such protocol. Meanwhile, those who are waiting for their turn to attend Mass can still access to live streaming Masses.
The new normal for Mass attendance would cause some inconveniences in terms of our interaction and movement. It would require extra sacrifices, patience, generosity and charity on our part. This is a time when we are called to live our faith in action, to go the "extra mile" for the good of our fellow parishioners.
On the other hand, aside from adapting to the new normal, it would be good to prepare ourselves to look beyond the recovery phase. The pandemic has brought about both negative and positive impacts to the world at large. Fear, affliction and death are experienced in many regions. Economic and social uncertainties, emotional stress, loss of employment, poverty and so forth are becoming daily challenges and burdens to many families.
To go beyond the recovery stage, policy responses of national governments are crucial. However, as believers, what would be our faith response to the negative impacts? What can we do individually and as faith communities to reach out to those who cry out "Save us, we are going down!"?
On a positive note, the worldwide lockdown has been a blessing to the environment and climate. There were reports of a large drop in air pollution due to decline in air travels, lesser road traffics, shutdown of factories and so forth.  Though such impacts are short-term, but any slowdown in the degradation of environment is definitely a contribution to a better tomorrow.
However, with lockdown easing, we find a world that is eager to rush back to the pre-pandemic era to make up for the lost time. How can we promote and advocate for a serious reading and adoption of the encyclical letter of Pope Francis, "Laudato Si"? What can we do individually and as parish communities to protect nature and promote sustainable development that is eco-friendly?
Indeed, the basic question is: What have we learnt from the lockdown? What is the Lord saying to the world today?
I leave these thoughts to you as we reopen our churches. The new normal should not stop at adhering merely to the protocol and SOP, it should challenge us to remove the abnormalities in our pre-pandemic life to what is desirable to our calling as the children of God and stewards of the earth.
May the Spirit give us the courage to do the will of the Father.
+ Most Reverend John Wong
Archbishop of Kota Kinabalu
5 July 2020
Kepada para paderi, religius dan umat awam Keuskupan Agung KK,
SURAT PASTORAL
"Tuhan, selamatkan kami! Kita sedang binasa." Dan Dia berkata kepada mereka:"Mengapa kamu takut, hai kamu yang kurang beriman?" (Mat 8:25-26)
Pada petang 27 Mac 2020, Paus Fransiskus berjalan sendirian dalam hujan di perkarangan St. Petrus yang kosong menuju ke sebuah dataran yang berbumbung di mana dia membaca dan menongsikan petikan mengenai "Angin ribut diredakan". Beliau mengundang Gereja dan dunia untuk berpaut pada Yesus Kristus di tengah pandemik Covid19 yang melanda seluruh dunia.
Hari ini, setelah seratus hari sejak peristiwa itu, jumlah kes harian Covid19 yang aktif di Malaysia telah menurun secara mendadak. Sesungguhnya, Tuhan mengasihani kita walaupun kita mempunyai iman yang sedikit.  Pujian dan kemuliaan kepada-Nya!  Mari kita terus berpaut teguh kepada-Nya dalam pelayaran menempuh badai pandemik ini. 
Kini "lockdown" kita berada di fasa pemulihan. Perintah Kawalan Pergerakan Pemulihan (PKPP) dijangka berlangsung hingga 31 Ogos 2020. Sebagai langkah untuk beransur kembali kepada normal, Kerajaan kita telah membenarkan lebih banyak aktiviti ekonomi dan sosial dibuka semula. Salah satunya adalah pembukaan semula tempat-tempat beribadat untuk orang ramai.
Kementerian Perpaduan Nasional dan Kementerian Undang-Undang dan Hal Ehwal Anak Negeri Sabah telah dipertanggungjawabkan untuk mengawasi pembukaan semula perkhidmatan agama bukan Islam. Prosedur Operasi Standard (SOP) telah dikeluarkan untuk dipatuhi oleh pihak gereja dan kuil.
Setelah berunding dengan semua pihak, saya dengan sukacitanya mengumumkan bahawa gereja-gereja di semua paroki di Keuskupan Agung Kota Kinabalu akan memulakan Misa umum pada hujung minggu 11hb dan 12hb Julai 2020. Saya tahu ramai di antara anda yang begitu rindu dan berkeinginan yang mendalam untuk menerima Tuhan dalam Ekaristi.
Sudah 15 minggu umat tidak dapat menerima sakramen Ekaristi dan sukar mengalami Gereja sebagai persekutuan. Sebagai warganegara yang taat, kita telah mematuhi tuntutan PKP kerana iman kita kepada Tuhan dan demi kebaikan bersama.
Walaupun pandemik itu belum berakhir, penantian kita untuk menghadiri Misa secara bebas akan dipersingkatkan jika semua kita mematuhi protokol dengan tegas. Saya mengatakan "bebas" kerana kita hanya dibenarkan mengisi sepertiga kapasiti gereja untuk mematuhi penjarakan sosial. Ini bermakna bukan semua umat boleh menghadiri Misa sesuka hati dan bila-bila masa.
Untuk memastikan bahawa setiap umat berpeluang menyertai Misa, beberapa peraturan telah disediakan oleh pihak paroki. Saya amat berharap anda semua akan memahami mengapa perlunya protokol tersebut.  Bagi mereka yang menunggu giliran untuk menghadiri Misa, anda bolehlah mengikuti Misa live streaming.
Normal baru untuk menghadiri Misa akan menyebabkan beberapa ketidakselesaan dari segi interaksi dan pergerakan kita. Ia memerlukan banyak pengorbanan, kesabaran, kemurahan hati dan amalkasih dari pihak kita. Ini adalah masa di mana kita diminta untuk menghidupi iman secara nyata, "lebihkan usaha" demi kebaikan bersama umat paroki kita.
Di sebaliknya, selain menyesuaikan diri dengan protokol, ada baiknya jika kita dapat mempersiapkan diri untuk fasa selepas pemulihan. Pandemik ini telah membawa kesan negatif dan positif kepada seluruh dunia. Ketakutan, penderitaan dan kematian telah dialami di banyak wilayah. Ketidakpastian ekonomi dan sosial, tekanan emosi, kehilangan pekerjaan, kemiskinan dan sebagainya menjadi cabaran dan bebanan harian kepada ramai keluarga.
Untuk melintasi fasa pemulihan, tindakbalas dasar kerajaan adalah sangat penting. Namun, sebagai orang beriman, apakah sahutan iman kita terhadap kesan-kesan negatif tersebut? Apa yang dapat kita lakukan secara individu dan sebagai komuniti yang beriman untuk menjangkau mereka yang berseru "Selamatkanlah kami, kita sedang tenggelam!"?
Secara positif, lockdown di seluruh dunia telah membawa berkat kepada alam persekitaran dan iklim. Ada laporan yang menyatakan bahawa tahap pencemaran udara telah menurun kerana kekurangan penerbangan udara dan lalu lintas jalanraya, penutupan kilang dan sebagainya. Walaupun impak seperti itu bersifat jangka pendek, tetapi sebarang penurunan dalam kemerosotan persekitaran pasti dapat menyumbang kepada hari esok yang lebih baik.
Namun, apabila lockdown mulai mereda, kita mendapati dunia mendesak kembali ke era pra-pandemik untuk menebus masa yang hilang. Bagaimana kita dapat mempromosikan dan menggalakan pembacaan dan penerapan ensiklik Paus Fransiskus, "Laudato Si" dalam masyarakat? Apa yang dapat kita lakukan secara individu dan sebagai satu paroki untuk melindungi alam semulajadi dan mempromosikan pembangunan lestari yang mesra alam?
Pertanyaan dasarnya adalah: Apa yang telah kita pelajari dari lockdown itu? Apakah yang Tuhan sedang katakan kepada dunia saat ini?
Biarlah semua ini menjadi renungan anda semasa kita membuka semula gereja-gereja kita. Normal baru itu bukan setakat mematuhi protokol dan SOP sahaja, ia seharusnya mencabar kita untuk mengubah amalan-amalan dalam kehidupan pra-pandemik yang tidak normal kepada panggilan kita untuk hidup sebagai anak-anak Alah dan memulihara bumi ciptaanNya.
Semoga Roh Kudus memberi kita keberanian untuk melakukan kehendak Bapa.
Uskup Agung John Wong
Keuskupan Agung Kota Kinabalu
5 Julai 2020
致亞庇總教區的神父,修士修女和信友
主教牧函
"主,救命啊 !我們要丧亡了。" 耶穌對他們說:" 小信德的人啊 !你們為什麼胆怯?" (玛8:25-26)"
 2020年3月27日晚上,教宗方济各獨自一人走在空蕩蕩的聖伯铎廣場上,在丝丝飘雨中走向一個有蓬的平台,在那里恭讀"平息風浪的"经文並對有关经文,作出反思讲道,邀請教會和世界在面对新冠肺炎大流行病中,緊緊依靠耶穌基督。
自該事件發生百日后的今天,馬來西亞每天活躍的冠炎病例數据已急劇減少。 的確,儘管我們信德薄弱,但天主一直怜悯我們。愿赞美与光荣归于祂! 當我們在大流行病肆虐的風暴中航行時,讓我們繼續信靠祂。
我們現在處於封鎖的復原階段。此復原行管令預計將持續到2020年8月31日。為逐步恢復常态,我國政府已允許國内恢復许多的經濟和社會活動,其中之一是给大众重新開放朝拜場所。
聯邦民族團結部和沙巴法律與原住民部受委監督非伊斯蘭宗教服務的恢復,并已發布有关標準作业程序(SOP),以便教堂和廟宇的操作符合所提出的要求。
在諮詢了多方面之後,我很高興地宣布,亞庇總教區的所有教堂將於2020年7月11日至12日週末恢復大眾彌撒。我相信你們当中有許多人都渴望並期待领受聖體聖事。
教友未能领受聖体聖事逹15週之久,不僅是在聖事方面,更是在體驗教會的共融。 作為守法的公民,我們遵守行管令,是因為我們對天主的信赖以及爲大众的共同利益着想。
虽然大流行病尚未結束,但若每個人都嚴格遵守行管令下的作业程序協議,那么我們不久将能自由參加弥撒。 我所指的"自由",是由于為保持安全社交距離,教堂只允許教堂容量的三分之一的教友出席。 這意味著並非所有教友都能随心所欲出席彌撒。
為了確保每個人都有參加彌撒的機會,堂區將採取某種形式的監管。 希望您們理解為什麼需要這種措施。 另外,那些輪候参加彌撒的人仍舊可参加线上直播彌撒。
出席彌撒的新常態將給我們的互動和活動帶來一些不便。 對我們而言,這將需要額外的犧牲,耐心,慷慨和爱德。 在這個時刻,我們被要求以行動活出我们的信念,為我們教友的彼此好處付出更多的努力。
另一方面,除了適應新常態之外,最好讓自己做好準備,展望恢復階段的未来。 大流行病給整個世界帶來了负面和正面的影響。 在許多地區都經歷对疫情的恐懼,折磨和死亡。 經濟和社會的不確定性,情緒壓力,失業,貧困等正在成為許多家庭的日常挑戰和負擔。
為了超越復甦階段,各國政府的政策回應至關重要。 但是,作為信徒,我們對負面影響的信仰回應是什麼? 我們個人和信仰团体可以如何向那些呐喊: ''救命呀 ! 我們快 要喪亡了!" 的人接觸?
在積極的一面,全球各边境的封鎖给環境和氣候带来祝福。 據報導,由於航空旅行的減少,道路交通的減少,工廠的關閉/暂休等等,導致空氣污染大幅度下降。 儘管這種影響是短期的,但有助于環境侵蚀的放緩,肯定為美好的明天做出貢獻。
但是,隨著封鎖措施的放鬆,我們發現世界倾向于回到大流行病前的時期,以彌補失去的時間。 我們如何促進和認真看待教宗方济各的环保通諭"愿您受赞颂 (Laudato Si)"? 我們個人和堂區群体要如何做,才能保護大自然和促進生態友好的持續發展?
的確,基本問題是:我們從封鎖中學到了什麼? 主對當今的世界說了什麼?
當我們重新開放教堂時,我讓你们去思考這些问题。 新常態不應僅停留在遵守防疫措施和標準作业程序上,它還應挑戰我們消除在大流行病疫前生活中的異常現象,以達到我們作為天主儿女和大地管家的召叫所期望的狀態。
願天主聖神賜給我們勇氣去履行天父的旨意 !
黄士交總主教
2020年7月5日