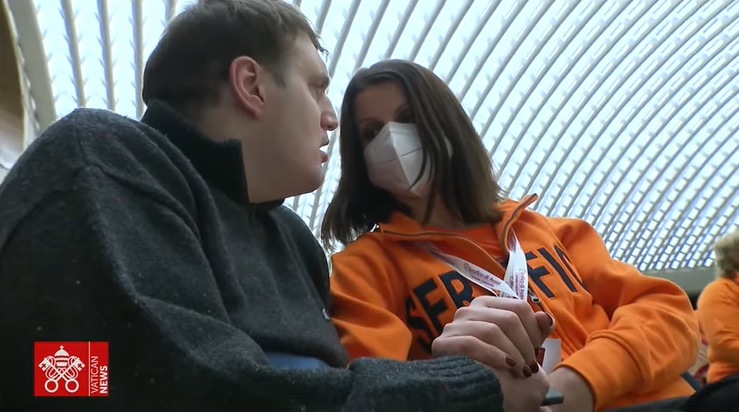 Pope Francis congratulates the Seraphic Institute of Assisi on its 150th anniversary, and says their mission of caring for children and young people with disabilities is based on a mutual exchange of gifts.
As the Seraphic Institute of Assisi celebrates the 150th anniversary of its foundation, a delegation of staff and students traveled from its seat in the central Italian town to meet with the Pope on Monday.
Greeting the group, Pope Francis expressed his heartfelt congratulations for the anniversary celebrations, and thanked them for traveling to Rome, despite the difficulties such a journey must have imposed.
He also recalled his 2013 meeting with the Institute during his first pilgrimage to Assisi and the many children who embraced him during that visit.
"They are the center of your mission," said the Pope on Monday, referring to the children and young people with physical, mental, and sensory disabilities whom the Institute seeks to assist and educate.
The Seraphic Institute is a Church-run organization which offers rehabilitation, psychological education, and social and clinical assistance for people with disabilities.
Bowing before wounds
Pope Francis noted how his namesake—St. Francis of Assisi—became poor in the footsteps of Jesus in order to be completely with those who are counted as last in society.
"He saw Jesus in people who were sick and marginalized," said the Pope. "He bowed down before their wounds; he placed them at the center of society's attention, even then tempted by a 'throwaway culture'."
The Pope said St. Ludwig of Casoria assimilated that message like a true Franciscan, founding the Institute in 1871 to assist people with sight or hearing disabilities, though its mission has expanded to serve those with many other disabilities.
Recognizing value and worth
Pope Francis applauded the spirit and dedication with which the Institute's staff carry out their mission.
"It is clear for you, as it should be for everyone, that every human person is precious and is endowed with a value that does not depend on what they have or their abilities," he said, "but on the simple fact that they are a person: the image of God."
Disability or illness, added the Pope, may make life more difficult, but does not make it less worthy to be lived to the fullest.
Exchanging gifts
Society and politics, he said, should do their part to promote a world in which a person with disabilities is viewed "as one of us".
"Adopting this principle," he said, "we realize that a person with disabilities not only receives, but gives as well. Caring for them is not a 'one-way' gesture but an exchange of gifts."
The Pope said Christians have an extra motive—in Jesus' example—to care for those with disabilities, though society is no less involved in promoting them.
He said the State has a duty to distribute funds equitably to assist institutions like the Seraphic and families in need.
Loving with patience and joy
Many of those families have turned to the Seraphic Institute for help and have come to consider it a family built on love, concluded the Pope.
The love you show, he said, "knows how to see another through their eyes or gestures; it anticipates their needs, never gives up in the face of trials, discovers each day the strength to start over, and finds joy in every tiny progress made by the person being helped." -Vatican News